Welcome to the BC HighwayCams website, where you can view highway conditions, traffic, and weather information at a glance.
To view BC HighwayCams, select one of the tabs below and click on a thumbnail. (NR-Northern Region; SIR-Southern Interior Region; LM-Lower Mainland; VI-Vancouver Island; Brdr-Border; All-All webcams; MyCams-Customize your own page of images.)
Please note all BC HwyCams use Pacific Time Zone (PT).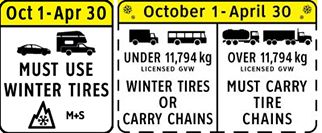 Attention motorists:

Winter tires or chains are required on most routes in British Columbia from October 1 to April 30. For select highways not located through mountain passes and/or high snowfall areas, tire and chain requirements end March 31.
These routes are marked with regulatory signs posted on numbered and un-numbered highways throughout the province. We reserve the right to restrict travel at any time of the year depending on road conditions.
Click for more information
ALERT: Slow load times due to ongoing network issues have been reported on BC HwyCams. Our technicians have been alerted and normal service will resume as soon as possible.



---

Highway 1 (Horseshoe Bay to Lonsdale)

Highway 1 (Ironworkers Memorial Bridge to Port Mann)

Highway 1 (Fraser Valley)

Highway 7 (Lougheed Highway)

Highway 7B (Mary Hill Bypass)

New!

Highway 9

Highway 10

Highway 11 (Abbotsford Mission Hwy)

Highway 15 (Surrey-Whiterock)

Highway 17

New!

New!

New!

New!

Highway 17A

Highway 91A (New Westminster / Queensborough)

Highway 0 (Knight Street)

Highway 91 (Alex Fraser Bridge)

Highway 91 (East-West Connector)

Highway 91 (Delta)

Highway 99 (Whistler to Lillooet)

Highway 99 (Sea-to-Sky Highway)

Highway 99 (Lions Gate Bridge/Marine Drive)

Highway 99 (Oak Street Bridge - Richmond)

Highway 99 (George Massey Tunnel)

Highway Highway 99 (Delta)

Highway 99 (Surrey - White Rock)

Highway 99A (King George Blvd)

Highway 101 (Sunshine Coast)